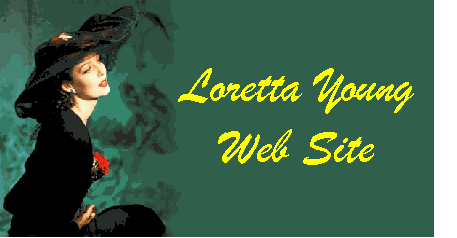 This is a non-profit Web site sponsored by fans of Loretta Young (1913-2000). It is dedicated to providing information on one of the greatest actresses of all time (and my personal favorite). Winner of the 1947 Best Actress Academy Award, Miss Young starred in one hundred movies and hundreds of television series' episodes spanning the golden ages of Hollywood. Even more important, she was a woman of great religious faith, serving as an example to others during her working years and performing countless acts of charity during her retirement.
We will present information on Miss Young's life and career that will help others know and appreciate this wonderful lady.

Click here for emails from Loretta Young's family
"In Memoriam Loretta Young" by Salvador Iglesias, Jr.
Click here for Cal Thomas' tribute to Loretta
Click here to see emails we have received from
some of the many fans who loved Loretta
New:

Click here for cast lists and episode
descriptions from Loretta
Young's television shows

Click here for photographs from the
collection of Salvador Iglesias, Jr.

Click here for 1999 and 2000
Medjugorje Magazine Articles

Click here for photos
of Miss Young
in 1929 and 1999