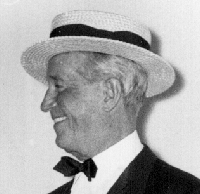 This picture is taken from a photograph given by Chevalier to the author of this web site.
MAURICE CHEVALIER
Web Page
This page is dedicated to providing information on one of the greatest entertainers of all time. We also will provide links to text and photos on other Web sites.
Born in 1888 in Paris, Chevalier started his professional career in 1901 as a singer and comedian. He starred in his first Hollywood musical "Innocents of Paris" in 1929, just two years after Al Jolson made history with the first all-talking motion picture. He was nominated for Academy Awards for The Love Parade (1929/1930) and The Big Pond (1929/1930). Making a dozen movies over the next seven years, Chevalier and his songs, such as "Mimi", "Louise", and "Valentine", became internationally popular. In the late 1950's his appearance in the movie "Gigi" started his second film career. In 1959 he received a special Academy Award for his contributions to the world of entertainment.
Throughout his seventies, he continued his one-man show around the world. The author of this Web site was privileged to attend one of his last performances. It was fantastic. He retired from the stage in 1968, a show business legend. His last work was the title song in the Disney movie, the Aristocats in 1970.
We ask anyone who knew Maurice Chevalier to e-mail their stories to us for possible inclusion on this site.

Chevalier's autograph (1964)
Links to Other Sites: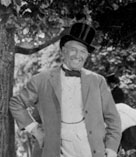 "Gigi" 1958
If you have reminisces or just commments related to Maurice Chevalier, please click on this line
---
This site is always under construction; elements are
constantly being added (Last updated July 24, 1998)